Coil Winder TD4T
Heavy Duty Single Head Bench Winder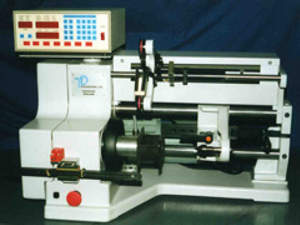 Model TD4T is a quality built, heavy duty, single head bench winder controlled by a well-proven microprocessor unit with a memory capacity capable of storing 1000 programmes.
Each programme controls:
Start position.
Winding width and wire diameter.
Number of turns.
Acceleration and deceleration.
Winding speed and direction.
All machines are equipped with a fail-safe brake and polycarbonate guard.
Variations in mechanical specifications are offered, including:
With or without traverse.
With or without tailstock.
Low speed, high torque gear motor.
More powerful drive motor.
Foot pedal speed control.
Multiple wire guides.
Long machine bed to customer's requirements.
Foil/strip support table option.
Tooling to suit customer's specifications.
Jog pedal to assist taping, etc.
Technical Specifications
| | |
| --- | --- |
| Wire Pitching | 0.05mm - 2mm |
| Coil Diameter | up to 300mm |
| Winding Length | up to 250mm |
| Traverse | up to 10mm |
| Spindle Speed | up to 6,000 rpm |
| Supply | 240V, 50 Cycles, 10 Amp |
| Motor | 0.75 kW |