Coil Winder TD5
Heavy Duty Floor Standing Single Head Winder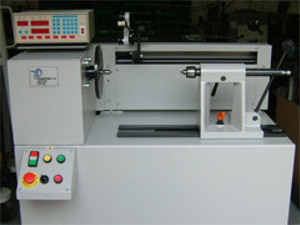 Model TD5 is a heavy duty, floor standing, single spindle winding machine, made to customer specification regarding winding length and diameter of swing. It is controlled by a well-proven microprocessor unit with a memory capacity capable of storing 1000 programmes.
Each programme controls:
Start position.
Winding width and wire diameter.
Number of turns.
Acceleration and deceleration.
Winding speed and direction.
These machines are powered by a DC motor up to 1.5 kW. A step-down gearbox is fitted if required. Maintenance-free HTD belt drives are used throughout, and build quality meets CE requirements.
Variations in mechanical specifications are offered, including:
With or without traverse.
With or without tailstock.
With or without foot pedal control option.