Model PDDP
Driven Rolloff Payoff with Constant Tension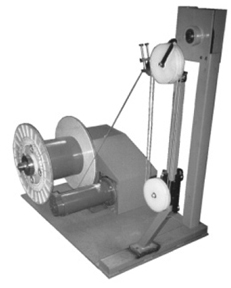 Wyrepak's driven payoff unrolls material without twist and with constant tension. The accumulator stores 3 to 4 meters of material, providing a smooth, controlled operation.
Ideal for most types of bare and insulated wire, including communication cables, special cables, on twinners, bunchers, and stranders. In fact, this unit handles almost any material which must be unrolled without twist.
Pull and cut harness machines
Pull and cut conduit inners and outers
Extrusion lines
Wire range:
0.1mm to 6mm stranded or single end
Up to 12mm special
Accumulator controlled D.C. driven reel
Standard running speed: 300m (1000') per minute
Standard tension range: 0.1 to 15 kilograms
For DIN 400 reel: Unit Ref. DRBP−8
For DIN 500 reel: Unit Ref. DRBP−10
For DIN 630 reel: Unit Ref. DRBP−12
Modified units are available for larger reels.
Pintle method for each side of the reel is available as an option.