Reinforced Plastic Guide Pulleys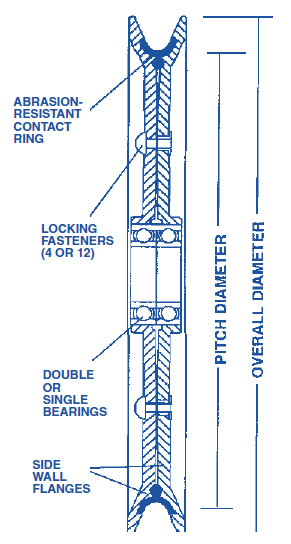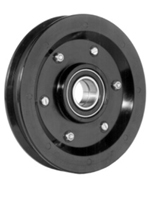 These highly durable reinforced pulleys, with their replaceable contact rings, are ideal for guiding or redirecting all types of wire.
Flanges are bolted together, so individual parts can be replaced when worn or damaged. Each may come with single or double bearings. The replaceable contact ring is available in hardened rubber, tungsten carbide coated steel or ceramic coated steel. The nitrile (rubber) has highly abrasive resistance and reduces vibration.
Specifications
ITEM
WP 2.5
WP 4.0
WP 6F
WP 6W
WP 8.0
WP 12.0
WP 16.0
Pitch Diameter
64 mm
102 mm
152 mm
152 mm
203 mm
305 mm
406 mm
Overall Diameter
89 mm
127 mm
178 mm
178 mm
241 mm
343 mm
445 mm
Approx. Weight
(w/ single bearing)
0.09 kg
0.13 kg
0.18 kg
0.50 kg
0.73 kg
0.82 kg
3.18 kg
Flange Width
18 mm
18 mm
18 mm
33.5 mm
33.5 mm
33.5 mm
33.5 mm
Bore
(A)
(B)
(B)
(C)
(C)
(C)
(C)
Contact Ring Radius
0.8 mm
0.8 mm
0.8 mm
6.4 mm
6.4 mm
6.4 mm
6.4 mm
(A) 3/8" and 1/2" single only
(B) 3/8", 1/2" and 15 mm double row
(C) 7/8", 3/4", 1" and 30 mm double or single