Longitudinal Taping Heads
Ref. TH1
Primarily for use with single or double twist bunchers and extrusion lines.
Can be used with many types of tape: paper, melonex, polypropylene, insulating, semi-conductive, fire retardent, water resistant, bituminized, etc.
Accommodates a 300 to 600 mm pad.
Wires are twisted and taped in one operation.
Run-out and tape break detection switches included on pad.
Right or left lay adjustment.
Ref. TH2
For traverse wound "jumbo pads" used with all types of bunchers and extrusion lines.
Tapes all types of layed up wire.
"Jumbo pads" allow long, efficient runs without stops and joins.
Tape passes through a tension capstan for constant tension to improve taping quality.
Special roller path ensures true unwinding without damage to the tape.
When inquiring about any of the above, please specify all pad dimensions, plus the width and type of tape.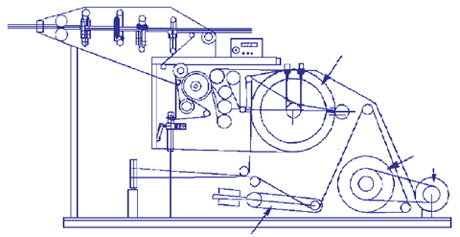 Improve your productivity by "taping" at bunching or laying up stage.
Constant tension at all times.
Tape break and/or tape runout.
Adjustable height and approach angles.
Left to right or right to left operation.
Pad size: 10" to 20" diameter (250 to 500mm diameter).
600mm to 1200mm wire line heights adjustable.
Other wire line heights as specified to order.
With two longitudinal taping heads you can screen tape, put an earth drain wire on top and overwrap with second tape.