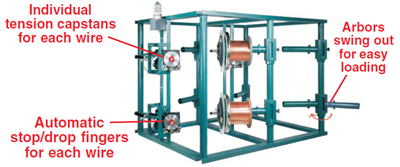 Model PD-3A
Swing Spindle Multiple Head Payoff Stands
The Wyrepak multiple head payoff stand, to wire bunchers and other operations, is a unitized payoff system including Wyrepak rotatable cap/tension brush units (see product PD-1). Any wire material, including copper, alloys and aluminum, can be paid off from any size or type of reels with wire breaks essentially eliminated, even in fine wire. Most insulated wire and some fiber optic material can also be processed with this Wyrepak system.
Continuous running is achieved by the provision of a stand-by spool opposite each active spool and by welding the ends together. With continuous payoff there is a significant saving in down time, increase in production, no waste, and improved production costs.
Standard Dimensions for Din 630 Reels
#Wires
A
B
7
81"
(2050 mm)
71"
(1800 mm)
10
119"
(3020 mm)
71"
(1800 mm)
20
195"
(4950 mm)
71"
(1800 mm)
30
309"
(7850 mm)
71"
(1800 mm)
40
385"
(9780 mm)
71"
(1800 mm)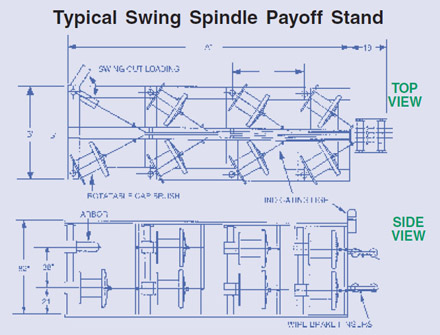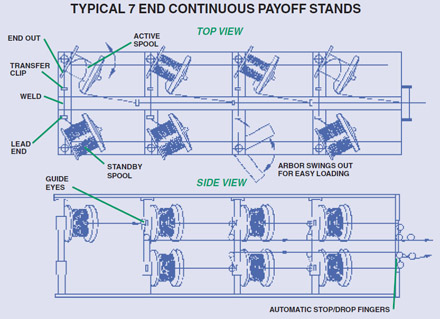 General Features
Electric Stop Fingers: Standard on all Wyrepak payoff stands.
Easy Loading: Spindles for reels swing out for quick and easy operator loading from sides and aisles.
Strong Construction: The frame is composed completely of welded steel pipe and channel steel with a steel base. This rugged unit moves easily to different shop locations.
Optional Footage Counter: An automatic preset machine stop footage counter (up to one million feet [305,000 meters]) is available.
Additional Tension Control: A variety of devices can be added when more precise control is required.
Payoff Stands can be Built to Accommodate Two Different Sizes of Spools and, if required, one section can be continuous while the other remains non-continuous.