Model PD-1
Spool Cap & Tension Brush Payoff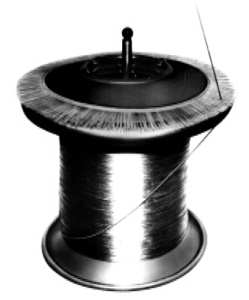 A simple, economical method of paying off many types of wire with steady back tension.
Features
Smooth, nickel-plated steel cap.
Works best with single bare wire, insulated wire, and some multiwire.
Speeds up to 600 feet per minute.
Easily mounted by attachment to the spool with a bore adapter.
Tension brushes are made from wear-resistant monofilament nylon, customized according to wire type and size.
Tension is maintained when payoff stops, so no "run on" or "cascading" occurs. This eliminates wire breaks at start-up.
Payoff can be vertical, horizontal or angled.
Reels from 6" (DIN 150) to 48" (DIN 1250) can be accomodated.
Applications
A tension brush payoff can be mounted on any of the following stands:
Click any of the above links for a description of the stand you are interested in.
Wire Control Point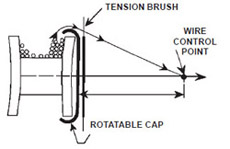 In this diagram of a cap-brush unit attached to a reel, payoff wire orbits the fixed brush.
The tension brush holds the orbiting wire in place for quick stops and starts. Wire diameter and speed determine tine diameter.
Wire control point on any reel center is ideally 1 to 1.5 times the diameter of the reel away from the cap. The rotatable cap covers the reel flange with proper clearance, acting as a "slippery flange". Rotation eliminates breaks and removes all material from the reel.
Rotatable Cap Tension Brush Unit,
6" to 14" diameter (152 to 355mm)

Rotatable Cap Tension Brush Unit,
16" to 49" diameter (406 to 1245mm)

Wire Sizes, Speeds and Brush Tine Diameters for Rotatable Cap / Tension Brush Units
Reel Flange Diameter
(cap brush unit / nominal)
Tension Brush Tine Diameter
(standard tine)
Normal Payoff Speed
(approx. maximum)
Wire Size Diameter
(usual practice)
6" (152mm)
.006" (.152mm)
500' (152m) / min.
.002 - .004"
(.051 - .103mm)
.010" (.254mm)
.004 - .005"
(.103 - .127mm)
.014" (.356mm)
.005 - .010"
(.127 - .254mm)
8" (203mm)
.010" (.254mm)
600' (183m) / min.
.004 - .005"
(.103 - .127mm)
.014" (.356mm)
.005 - .010"
(.127 - .254mm)
.018" (.456mm)
.010 - .015"
(.254 - .381mm)
.024" (.585mm)
.015 - .035"
(.381 - .890mm)
10" (254mm)
.010" (.254mm)
600' (183m) / min.
.004 - .005"
(.103 - .127mm)
.014" (.356mm)
.005 - .010"
(.127 - .254mm)
.018" (.456mm)
.010 - .015"
(.254 - .381mm)
.024" (.585mm)
.015 - .035"
(.381 - .890mm)
12" (305mm)
.014" (.356mm)
600' (183m) / min.
.010 - .016"
(.254 - .405mm)
.018" (.456mm)
.016 - .020"
(.405 - .508mm)
.024" (.585mm)
.020 - .040"
(.508 - 1.03mm)
14" (355mm)
.014" (.356mm)
600' (183m) / min.
.010 - .020"
(.254 - .508mm)
.018" (.456mm)
.020 - .040"
(.508 - 1.03mm)
.024" (.585mm)
.040 - .050"
(1.03 - 1.27mm)
.032" (.812mm)
.050 - .064"
(1.27 - 1.63mm)
16" (406mm)
.014" (.356mm)
600' (183m) / min.
.010 - .020"
(.254 - .508mm)
.018" (.456mm)
.020 - .040"
(.508 - 1.03mm)
.024" (.585mm)
.040 - .050"
(1.03 - 1.27mm)
.032" (.812mm)
.050 - .064"
(1.27 - 1.63mm)
17.5" (445mm)
.014" (.356mm)
600' (183m) / min.
.010 - .020"
(.254 - .508mm)
.018" (.456mm)
.020 - .040"
(.508 - 1.03mm)
.024" (.585mm)
.040 - .050"
(1.03 - 1.27mm)
.032" (.812mm)
.050 - .064"
(1.27 - 1.63mm)
22 - 22.5" (559 - 572mm)
.018" (.456mm)
600' (183m) / min.
.015 - .030"
(.381 - .762mm)
.024" (.585mm)
.030 - .045"
(.762 - 1.14mm)
.032" (.812mm)
.045 - .064"
(1.14 - 1.63mm)
.040" (1.03mm)
.064 - .100"
(1.63 - 2.54mm)
24" (610mm)
.018" (.456mm)
600' (183m) / min.
.015 - .030"
(.381 - .762mm)
.024" (.585mm)
.030 - .045"
(.762 - 1.14mm)
.032" (.812mm)
.045 - .064"
(1.14 - 1.63mm)
.040" (1.03mm)
.064 - .100"
(1.63 - 2.54mm)
28" (711mm)
.024" (.585mm)
600' (183m) / min.
.030 - .045"
(.762 - 1.14mm)
.032" (.812mm)
.045 - .064"
(1.14 - 1.63mm)
.040" (1.03mm)
.064 - .110"
(1.63 - 2.79mm)
.060" (1.52mm)
.110 - .130"
(2.79 - 3.30mm)
30" (762mm)
.024" (.585mm)
600' (183m) / min.
.030 - .045"
(.762 - 1.14mm)
.032" (.812mm)
.045 - .064"
(1.14 - 1.63mm)
.040" (1.03mm)
.064 - .110"
(1.63 - 2.79mm)
.060" (1.52mm)
.110 - .130"
(2.79 - 3.30mm)
32" (800mm)
.024" (.585mm)
600' (183m) / min.
.030-.045"
(.762 - 1.14mm)
.032" (.812mm)
.045 - .064"
(1.14 - 1.63mm)
.040" (1.03mm)
.064 - .110"
(1.63 - 2.79mm)
.060" (1.52mm)
.110 - .130"
(2.79 - 3.30mm)
36" (915mm)
.024" (.585mm)
600' (183m) / min.
.030 - .045"
(.762 - 1.14mm)
.032" (.812mm)
.045 - .064"
(1.14 - 1.63mm)
.040" (1.03mm)
.064 - .110"
(1.63 - 2.79mm)
.060" (1.52mm)
.110 - .130"
(2.79 - 3.30mm)
39" (990mm)
.024" (.585mm)
600' (183m) / min.
.030 - .045"
(.762 - 1.14mm)
.032" (.812mm)
.045 - .064"
(1.14 - 1.63mm)
.040" (1.03mm)
.064 - .110"
(1.63 - 2.79mm)
.060" (1.52mm)
.110 - .130"
(2.79 - 3.30mm)
49" (1245mm)
.024" (.585mm)
600' (183m) / min.
.030 - .045"
(.762 - 1.14mm)
.032" (.812mm)
.045 - .064"
(1.14 - 1.63mm)
.040" (1.03mm)
.064 - .110"
(1.63 - 2.79mm)
.060" (1.52mm)
.110 - .130"
(2.79 - 3.30mm)