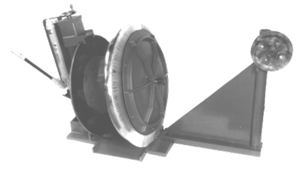 Model PD-22
Hydratylt Payoff Stand
Wyrepak's Hydratylt stand is a self-contained, large reel payoff for reels 16" to 36" (400-900 mm). The simple design enables heavy reels to be easily tilted to the ideal payoff position of approximately a 30° tilt.
Advantages
Greatly reduce the risk of back injuries or other strains by using the hydraulic pump to tilt the wheel.
Easy setup with a compact design that uses minimal floor space.
Units are easily located on the floor surface and can be bolted if preferred, but no floor holes or recesses are needed.
No shop air or wiring required.
General Description
Single station units (above photo) weigh approximately 300 lbs. (137 kg) and measure approximately 5 ft. x 1 1/2 ft. (1500mm x 455mm). Double station units (Figure 2) provide continuous operation. Using reels with an end out and a common eye, a weld is made while one unit is running, providing nonstop payoff. The double unit's approximate size is 6 ft. x 4 ft. (1830mm x 1220mm), and the weight is 500 lbs. (227 kg). For further specifications, see drawing on reverse side of this sheet.
Applications
For payoff to wire drawing, bunching, extrusion, plating, tinning, annealing and similar operations.
Operation
Once the unit has been located in the required payoff position, roll the reel to the indexed position on the base plate. Turn the top crank to lower the flange gripper to lock on the reel. Close the external release valve on the pump and operate the pump handle. The reel will automatically tilt to approximately 30° and then stop.
Attach Wyrepak Cap Brush unit (see below) into reel bore, string up wire, and run.
To remove the reel, remove the cap brush unit and turn the load release valve. This returns the reel to the horizontal position. Raise the flange gripper and roll out the reel (Note: The black handle on the pump bottom controls the speed of the tilt releases).
Cap Brush Units
These units are used with Hydratylt stands to provide smooth, orbital payoff, create tension control, and eliminate breaks.
Inertia free: no "run-on" or slack wire.
Unique patented system of rotating cap combined with brush bristle contact controls wire tension.
Simple to install, our standard unit (PD-1) is suitable for speeds up to 600 ft./min.
Higher speeds of up to 1200 ft./min. can be obtained using our "Brush Brake" unit (PD-26) without using expensive domes or shrouds.

DOUBLE STATION HYDRATYLT STAND
FOR CONTINUOUS PAYOFF