Model PD-7
Tyltbak Payoff Stand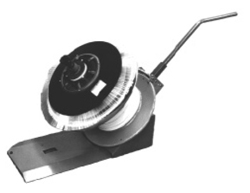 The Wyrepak "Tyltbak" Payoff Stand is designed to pay off one wire or multiple wires to wire drawing, rewinding, insulating, bunching, tinning, or patenting. It allows one-man, fast and easy positioning of 16" to 24" flange diameter reels without using any overhead or other material handling equipment. This allows larger payoff packages to be used with no lifting of reels or the assistance of other equipment.
General Applications
Reels are rolled to prepositioned locations on Wyrepak's "Tyltbak" payoff stand and tilted back with a hand lever from a standing position. They are then locked in place, tension brush units are attached, and wires are strung up.
The single head stand weighs less than 100 lbs. (45 kg.), is easily located and ready for use on any floor area, and needs no fastening or bolting. It is designed for stable operation without moving or tilting; its all-welded construction on a steel base plate makes it easy to move.
Rotatable Cap Tension Brush Unit
Wyrepak's rotatable cap tension-brush unit is supplied for each station to provide positive variable tension control. This greatly reduces wire breaks and prevents dropped, loose or looped wire, even with fine wire from 24" reels. This is accomplished by a smooth contoured, plated steel cap over which the wire passes with no contact with the reel flange. The nylon tension-brush assemblies control tension from full to empty reels as the wire action rotates the cap. All wire is removed from each reel with no loose, dropped or knotted wires and no wire damage from distorted, dented or damaged reel flanges. Shutdowns from wire breaks are virtually eliminated, and the ability to use larger reels for the same size of wire without breaks means increased machine running time and productivity.
Each station is equipped with an adapter which fits inside the reel bore to hold the tension brush unit firmly in place. Special adapters are available for nonstandard reels.
Installation & Operation
After locating the stand in the desired place, follow this simple setup procedure: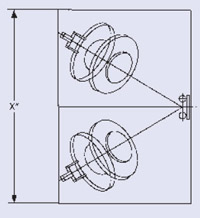 Roll reel onto base plate so that the reel flanges rest in the two locating rectangular openings.
Raise sliding assembly (gripper) on the Tyltbak station and lower it over the reel flange. Do not tighten at this time.
Using the hand lever (which can be done from a standing position), tilt the reel back to about a 45° angle against the frame rest.
Tighten the hand knob to lock the sliding assembly tight over the reel flange. The reel is now positioned safely.
Continuous Operation
Continuous operation is easily achieved by using a double Tyltbak stand paying off to one central guide eye.
Single Head Stand (Assembled)
| | |
| --- | --- |
| Approx. Overall Dimensions | |
| Length | 34" (87 cm) |
| Height | 36" (92 cm) |
| Width | 16" (41 cm) |
| Approx. Shipping Weight | |
| (excluding tension brush unit) | 98 lbs (45 kg) |
Construction
Frame: The frame is a unitized construction on a preformed steel base plate with edges formed to raise the plate about 1" off the floor. This allows the reel flanges to drop into two rectangular openings. This creates a rugged, stable base for operation eye/pulley at the proper distance from the reel and tension brush unit. This preset distance eliminates wire looping, blooming, etc., when the tension brush is operated as outlined in Wyrepak's PD-1 and PD-26 product descriptions.
Rotatable cap, tension brush unit: This unit is held in place by a bore adapter to keep it snugly held in the reel arbor. The tension brush must not rotate, the cap brush must be free to rotate, and the assembly must not be loose.
Tension Capstan can be added to the front end instead of a sheave. Contact us for details.