Wyrepak Industry Products - Tension Control
Some of the links below are in Adobe Acrobat PDF format and download time may vary based on your Internet connection. You will also require the latest version of Adobe Reader to open them.

Once you have installed Adobe Reader, you can access any of the following:
PDCBU-1 - Capstan Belt Tension Units
Whenever constant payoff tension is required, in either high or low speed situations, capstan belt tension units should be used. They neutralize speed variances and provide constant tension from start-up to shut down.
Typical applications include:
Extruding
Bunching
Stranding
Rewinding
Braider bobbin winding
Strand annealing
Click here to read more about this product.
PDDC - Double Capstan Wire Strand Tension Equalizer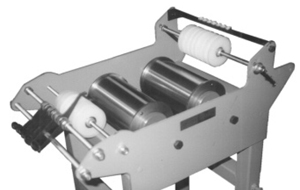 This unit is designed specifically for payoff of multiple wires for a concentric finished strand.
Instead of using individual capstans, each wire is controlled by the same two capstans, ensuring that each wire has exactly the same tension. The wires are wrapped slightly less than one turn around the input and exit capstan rollers with their wire paths set by input and output guide pulleys with ceramic eyes to prevent overlaps...
Click here to read more about this product.