Wyrepak Industry Products - Spools & Accessories
Some of the links below are in Adobe Acrobat PDF format and download time may vary based on your Internet connection. You will also require the latest version of Adobe Reader to open them.

Once you have installed Adobe Reader, you can access any of the following:
PD-1 - Spool Cap & Tension Brush Payoff
A simple, economical method of paying off many types of wire with steady back tension.
Features include:
Smooth, nickel-plated steel cap.
Works best with single bare wire, insulated wire, and some multiwire.
Speeds up to 600 feet per minute.
Easily mounted by attachment to the spool with a bore adapter.
Tension brushes are made from wear-resistant monofilament nylon, customized according to wire type and size.
Tension is maintained when payoff stops, so no "run on" or "cascading" occurs. This eliminates wire breaks at start-up.
Payoff can be vertical, horizontal or angled.
Click here to read more about this product.
Download the PDF document (also includes product PD-26, below).

PD-26 - Higher Speed Units
Standard units allow payoff up to 600 feet/min (184 meters). Higher speeds of up to 1200 feet/min (370 meters) can be acheived by using Wyrepak's PD-26 and PD-26A units...
Click here to read more about this product.

PD-3 - Payoff Unit for Stem Pack/Formers
Smooth payoff and steady back tension are provided by this system.
The main component of this unit is an inverted cone, which is placed on top of the former and the wire. This cone moves downward as the wire pays off, gently forcing the wire outwards around the contour of the cone and past a smooth ring on top. The wire is then guided through a Wyrepak cap and tension brush (PD-1) affixed to the top of the stem pack/former.
A "snagger" switch can be included as an option to signal the unwinding system to stop should a tangle or snag occur...
Click here to read more about this product.
PDFA-1 - Flyer Arm Payoff Unit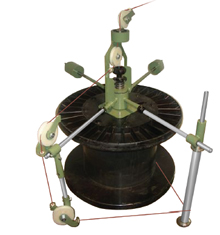 This flyer arm has been designed specifically to pay off multi wire, but works equally well with other types of bare or insulated material.
Full span leading traverse roller is bearing-mounted to smoothly pull the multi ends or other type of material outwards from the spool.
End flanges on the roller insure the wire path at traverse ends is controlled, and the payoff material cannot escape (particularly at speed or sudden stops).
Clamping bore adapter locks the unit into the bore of the spool. This eliminates vibration and insures concentricity.
The optional swivel top assembly allows payoff directly towards the process from the spool.
The "Ferodo" friction disc braking unit provides smooth, constant tension at the level best for the application. It has low braking noise and a minimum "bedding-in" period. Improved wear characteristics give extended life expectancy.
Optional adjustable arm length allows the unit to be used on different sizes of spools.
Click here to read more about this product.
For any stands that may be used with one of these items, please Click here.